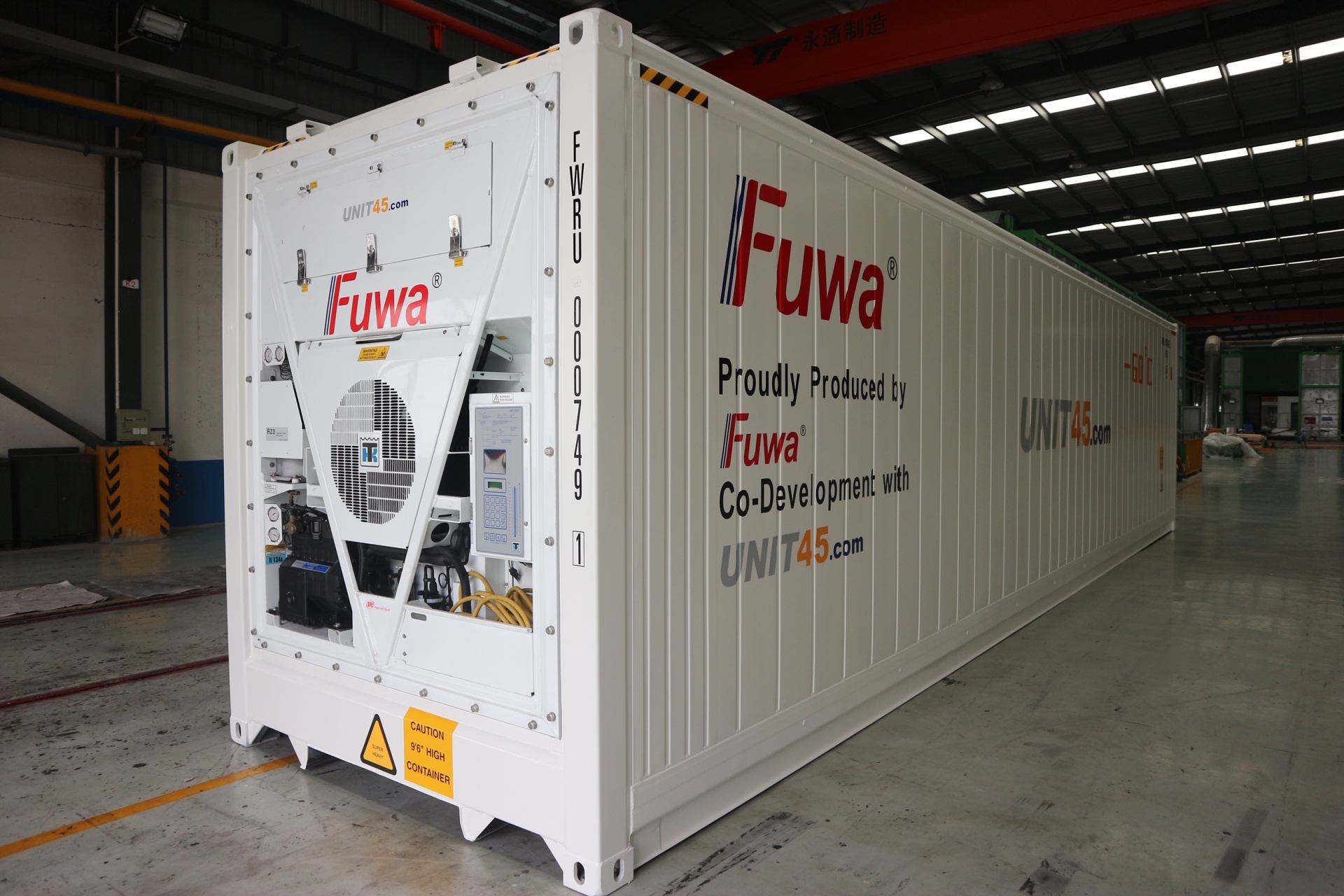 40FT SUPER FREEZER
UNIT45 recently added the 40ft super freezer reefer to her line of special equipment of reefers. This refrigerated container is able to maintain temperatures as low as -60°C and allows shippers to carry cargo at a deep frozen state.

The advantages of the 40ft super freezer reefer:
Designed for long distance transportation
Long term storage of deep frozen cargo
Easy temperature control
Conditioned transport of perishable goods
Optional advanced track- and trace system
This 40ft reefer is designed for long distance transportation or long term storage of deep frozen cargo. Cargo will always be delivered in an exceptional condition and retain its premium value. Cargoes carry range from expensive seafood to pharmaceuticals. This 40ft reefer is equipped with a cascade refrigeration system with dual compressor to reach a temperature down to -60°C.
With its lighter tare weight and greater payload, the all-electric reefer container is generally the preferred choice when operational arrangements are able to guarantee availability of a suitable power supply during all stages of the transport chain. On ships, in ports and on the road, this is rarely a problem.
UNIT45 uses only the best cooling units for its electric reefers, giving the least damaging emissions. Using high-quality foam in the walls of the reefer prevents loss of temperature within the reefer. The rising popularity of the electric reefer containers is directly attributable to the ever-increasing cost of operating reefer trailers. On many routes, substantial savings can be made by switching from pure road trailer operations to intermodal or shortsea container alternatives.
UNIT45 gives you the security that your load can be monitored at all times during transportation by offering you an optional track- and trace system on all our reefers. This way, you can check the location of your cargo at all times.
All UNIT45 containers are road-legal throughout the EU and are also well suited for transport on cellular (Shortsea) and non-cellular container ships, ro-ro vessels, inland waterway barges and rail wagons due to their chamfered corner post and euro corner castings.

UNIT45 design is constantly revised to take account of new technology, materials and environment as they become available and proven in service. All our reefers are painted with waterborne paint.

Our reefers can be bought, rented or leased for a certain period. When you send us your enquiry a suitable offer will be made for you. After your acceptance of the offer, the order process is started. Depending on your order, the reefers are made in your corporate identity colors and/or decals or directly available from stock in case you wish to rent/lease or buy our reefers. After signature of the contract or payment in case of purchase, the reefers are released at the depot Rotterdam, depending on availability.
Our 40ft super freezer reefers feature aluminum T- floors and all are suitable for intermodal transport of deep frozen cargo on rail, road and sea.
Specifications
External dimensions
Length: 12,192 mm
Width: 2,438 mm
Height: 2,896 mm
Internal dimensions
Length: 11,517 mm
Width: 2,110 mm
Height: 2,452 mm
Weight
Gross weight: 34,000 kgs
Tarra weight: 5,790 kgs
Max Payload: 28,210 kgs