CURTAINSIDED UNITS
This curtainsided unit, which can be loaded from the side, now opens up an unconventional segment of road haulage and close-meshed distribution to containers. A patented base structure that eliminates the need for extreme pretensioning, ensures that the curtainsided unit has a side aperture height of 2394mm between its floor and toprail. At the front end there is a central stub wall fitted between 45 and 40ft position which is 60 mm width and is support for all stacking and lifting loads. The curtainsided containers comes in 2 variations.
Type A (L-approved) is equipped with a birch floor and can be (un)loaded from 3 sides, including aluminium side boards with stanchions and wooden planks. Type A+ (XL-approved) is equipped with a lightweight bamboo floor, including the aluminium side boards, stanchions and bamboo planks.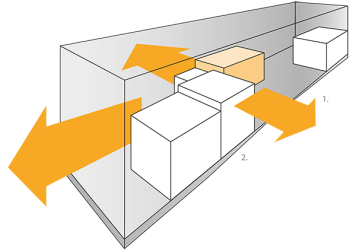 Download here our:
Contact us via sales@unit45.com or click here to receive a free quote!