1 /European legislation lays down the requirements for the length and width of transport by road. The total length of the truck-trailer combination must be within 16500 mm. From the king-pin till the rear end of the trailer 12000 mm. And a swing radius from the king-pin from 2040 mm. The standard (maritime) 45ft container protrudes 8 cm at the rear and therefore does not conform to E.E.C. directive EN253. A lobby to amend the legislation fails.
2 /Simply shifting the container forward is not an option. In this case the so-called swing clearance requirements of the directive (king-pin) presents a problem. The front of the container must remain within a 2040 mm radius. The result is a container with a chamfered eurocasting; which ensures that the container conforms entirely to the European legislation and is suitable for intermodal transport.
E.E.C. directive EN253 permits a maximum height of 4000 mm. Subtracting 1105 mm for the fifth wheel of the trailer and 120 mm for the neck, leaves a residual height of 2775 mm for the container. The gooseneck chassis and matching base structure of the container (gooseneck tunnel) leave a residual height of 2896 mm. Sufficient for a pallet-wide high cube (9'6") container.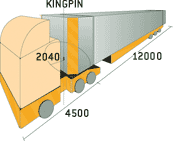 For more information about this principle, please contact us!