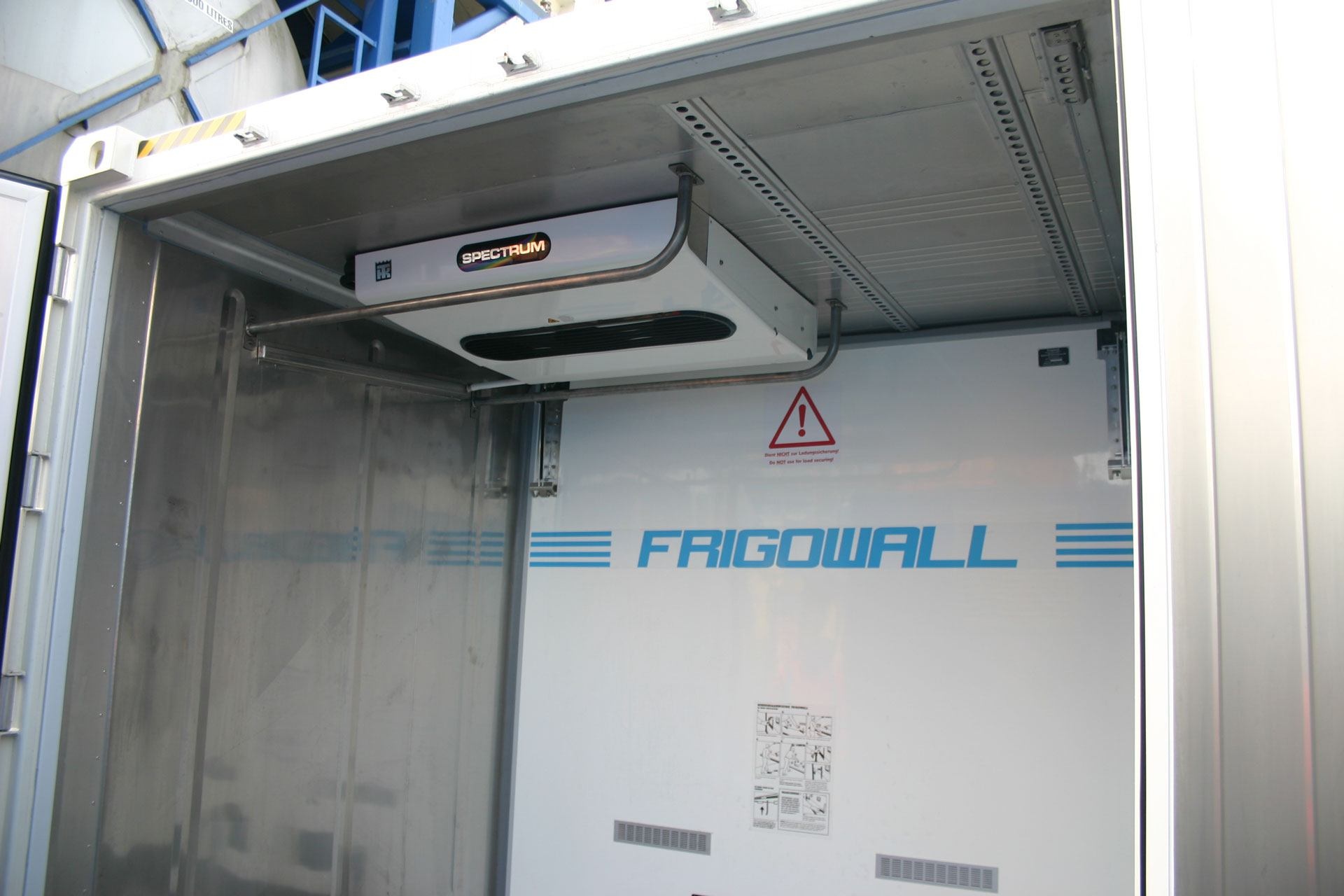 DUAL COMPARTMENT
To provide its customers with additional revenue generating possibilities, UNIT45 has also developed a special version of its diesel-electric reefer container: a dual-compartment reefer. Able to transport simultaneously 2 contrasting commodities such as fish and flowers, the dual-compartment container features a movable Frigo wall that can be secured in different positions according to the load split. Extra evaporator(s) enable 2/3 different temperatures in the different compartments. This part-load capability enables the transport operator to carry cargo from two different shippers but most applications are expected to see the transport operator's customers using a single container to carry two or more commodities, e.g. frozen and fresh chicken, at the same time.
Besides the dual-compartment diesel-electric reefer, which has 2 temperature controlled compartments within the reefer, UNIT45 also offers the triple-compartment reefer. This reefer has 3 compartments, meaning 3 different temperatures fully controllable between +25° and -25° C, enabling two or more commodities to be carried at the same time.
The advantages of the dual reefers:
Conditioned transport of simultaneously 2 commodities
Optional advanced track- and trace system
Compatible with 40ft infrastructure
Movable Frigo wall
The diesel-electric power unit used by UNIT45 incorporates a 250-litre diesel tank. This is more than sufficient for long-haul rail operations such as Rotterdam to Italy or Eastern Europe.

This reefer unit has sufficient cargo capacity to handle 33 euro-pallets. This ingeniously designed lightweight container is constructed using an ideal combination of aluminum and high-strength steel. Not only does this reefer unit require a lower investment than reefer trailers, it is also durable and requires little maintenance. A built-in cooling system that saves cargo space has been developed and can be supplied under a service contract and a track and trace system. These systems combine maximum cooling capacity with excellent energy-economy. The reefer is finished on the inside with a flat aluminum floor, with the layout of the cargo security system being entirely to the customer's specifications.
Considering the more strict food and pharma safety regulations, controlling the transport of perishable goods and pharmaceuticals has become more important than ever.
UNIT45 gives you the security that your load can be monitored at all times during transportation by offering you an optional track- and trace system on all our reefers. This way, you can check the location of your cargo at all times.
Our 45ft reefers can be bought, rented or leased for a certain period. When you send us your enquiry a suitable offer will be made for you. After your acceptance of the offer, the order process is started. Depending on your order, the 45ft reefers are made in your corporate identity colors and/or decals or directly available from stock in case you wish to rent/lease or buy our reefers. After signature of the contract or payment in case of purchase, the containers are released at the depot Rotterdam, depending on availability.
Our 45ft reefers feature aluminum flat floors and are equipped with 4 cargo bars. The reefers are suitable for intermodal transport of conditioned cargo on rail, road and sea.
Specifications
External dimensions
Length: 13,716 mm
Width: 2,556 mm
Height: 2,896 mm
Internal dimensions
Length: 13,275 mm
Width: 2,438 mm
Height: 2,575 mm
Capacity
Cubic capacity: 83,1
Euro pallet: 33
ISO pallet: 26
Weight
Gross weight: 34,000 kgs
Tarra weight: 7,240 kgs
Max Payload: 26,760 kgs
these technical specs only apply to the standard dual compartment reefer