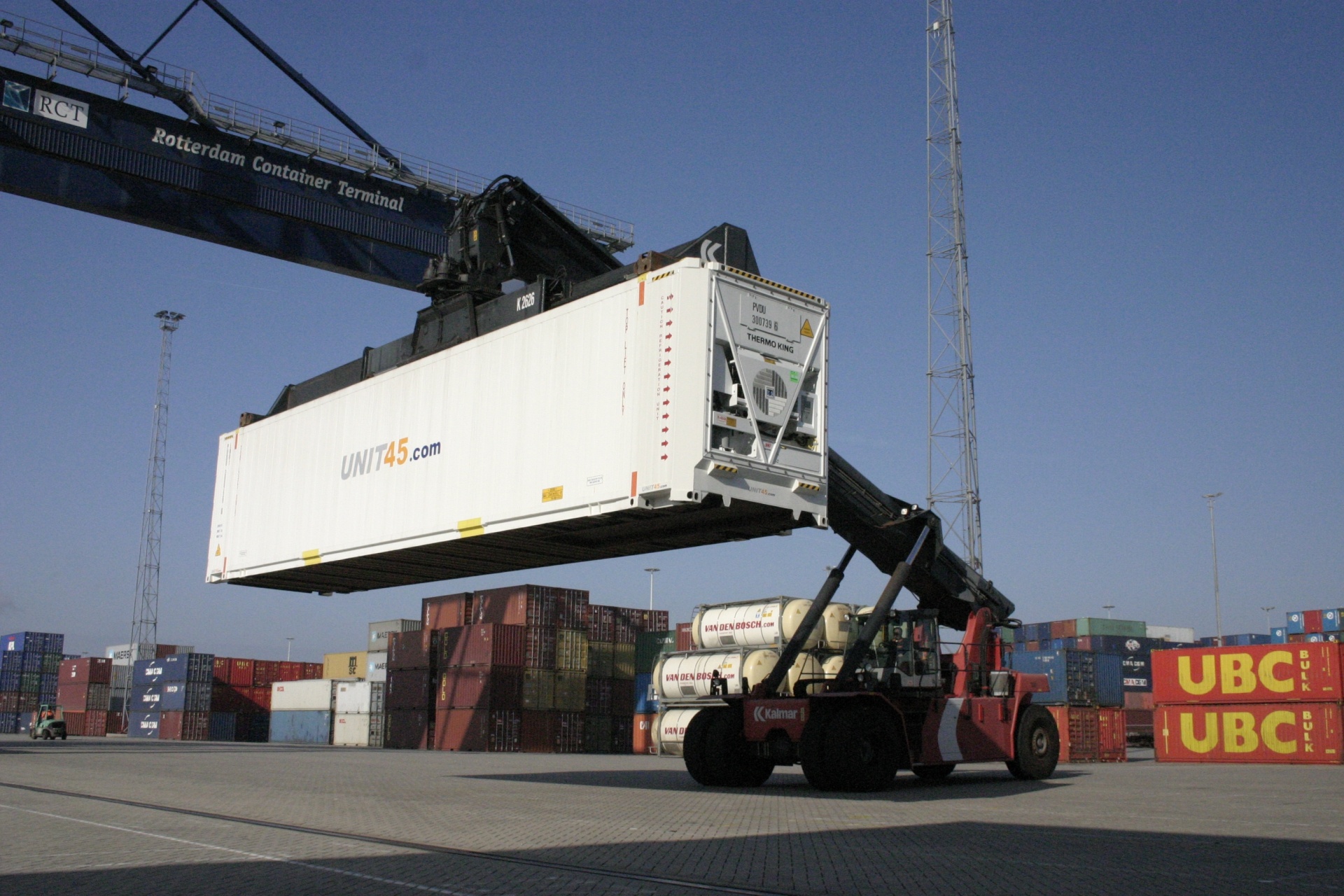 ALL-ELECTRIC DOUBLE STACK
To provide its customers with additional revenue generating possibilities, UNIT45 has also developed a special version of its all-electric reefer container: a double-stack container. The double-stack reefer features a removable intermediate deck that allows 66 euro pallets to be loaded without the need to stack one pallet directly on top of another, a practice that can result in crush damage to cargo on the lower pallet. This double stack system can be mounted in all our standard 45ft containers. Nevertheless this unit can also transport 33 euro pallets like the standard 45ft container.
The advantages of the 45ft all electric double stack reefer:
Transport cargo double stacked
Conditioned transport of perishable goods
Compatible with 40ft infrastructure
Lighter tare weight and greater payload
The electric reefer double stack is equipped with 22 moveable loading bars. With its lighter tare weight and greater payload, both all-electric reefer containers are generally the preferred choice when operational arrangements are able to guarantee availability of a suitable power supply during all stages of the transport chain. On ships, in ports and on the road, this is rarely a problem.
UNIT45 uses only the best cooling units for its electric reefers, giving the least damaging emissions. Using high-quality foam in the walls off the reefer prevents loss of temperature within the reefer. The rising popularity of all-electric 45ft reefer containers is directly attributable to the ever-increasing cost of operating reefer trailers. On many routes, substantial savings can be made by switching from pure road trailer operations to intermodal or shortsea container alternatives.
UNIT45 gives you the security that your load can be monitored at all times during transportation by offering you an optional track- and trace system on all our reefers. This way, you can check the location of your cargo at all times.
All UNIT45 containers are road-legal throughout the EU and are also well suited for transport on cellular (shortsea) and non-cellular container ships, ro-ro vessels, inland waterway barges and rail wagons due to their chamfered corner post and euro corner castings.

UNIT45 design is constantly revised to take account of new technology, materials and environment as they become available and proven in service. All our 45ft reefers are painted with self-cleaning waterborne paint.
Our 45ft reefers can be bought, rented or leased for a certain period. When you send us your enquiry a suitable offer will be made for you. After your acceptance of the offer, the order process is started. Depending on your order, the 45ft reefers are made in your corporate identity colors and/or decals or directly available from stock in case you wish to rent/lease or buy our containers. After signature of the contract or payment in case of purchase, the reefers are released at the depot Rotterdam, depending on availability.
Our 45ft reefers feature aluminum flat floors and are equipped with 4 cargo bars. All reefers are all suitable for intermodal transport of conditioned cargo on rail, road and sea.
Specifications
External dimensions
Length: 13,716 mm
Width: 2,556 mm
Height: 2,896 mm
Internal dimensions
Length: 13,303 mm
Width: 2,438 mm
Height: 2,575 mm
Capacity
Cubic capacity: 83,1
Euro pallet: 66
ISO pallet: 52
Weight
Gross weight: 34,000 kgs
Tarra weight: 6,560 kgs
Max Payload: 27,440 kgs