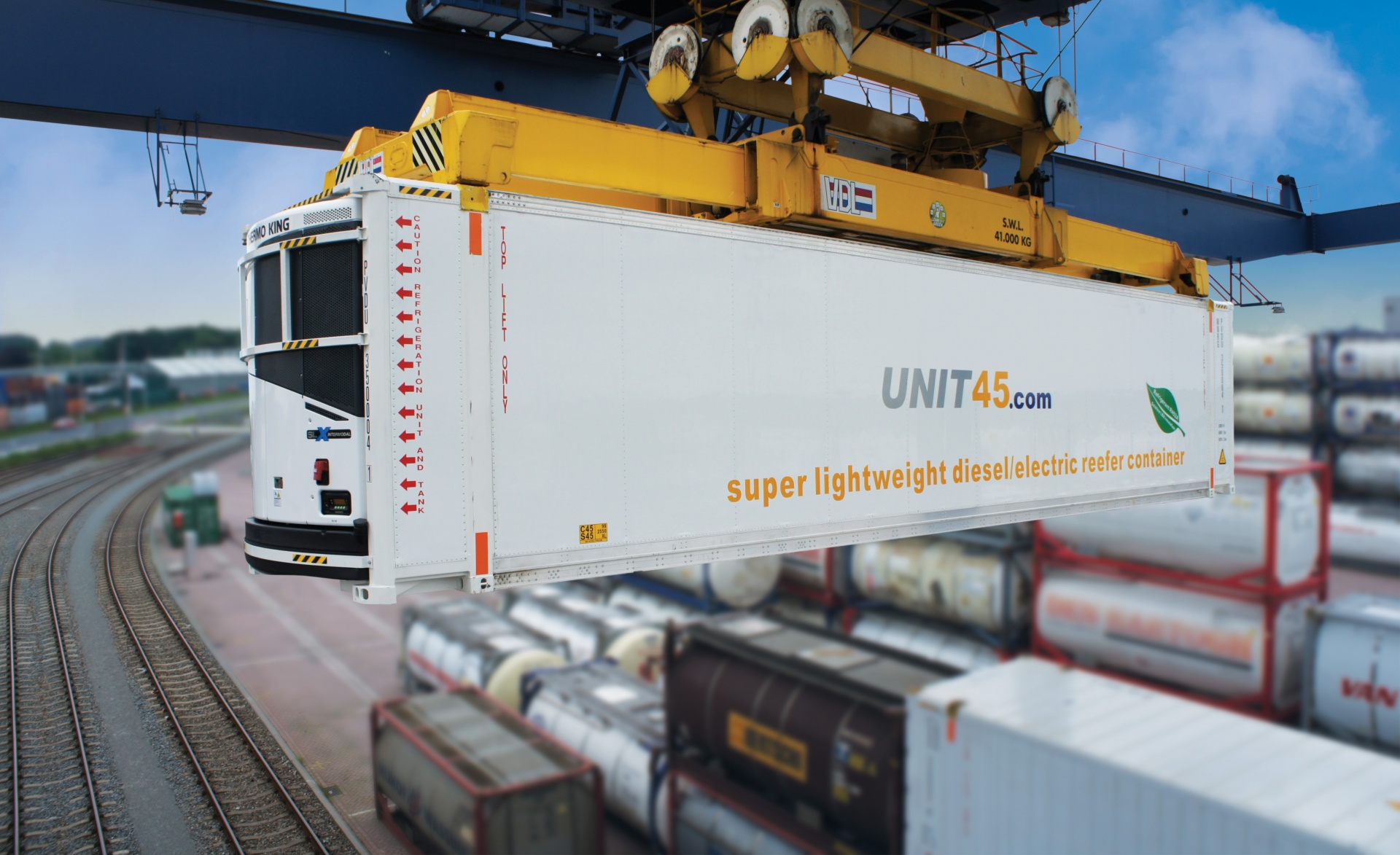 LIGHTWEIGHT DE REEFER
UNIT45 recently developed the new aluminum lightweight diesel electric reefer. This diesel-electric reefer container built from aluminum, shows around 1200 kg less in weight compared to the standard diesel-electric reefer. Less tare weight means a direct increase in maximum payload giving multimodal operators a huge advantage.
The advantages of the 45ft lightweight reefer:
Less weight, more payload
Optional double stack system
Compatible with 40ft infrastructure
Available as dual/triple compartment reefer
On road this container combined with a lightweight chassis gives operators more flexibility, due to fact that it is not heavier than a trailer, using its total weight to the utmost. Using this lightweight reefer container in combination with rail, the maximum weight combined transport of 44.000 kg, giving multimodal operators the advantage to load 4000 kg more compared to road transport.
To provide its customers with additional revenue generating possibilities, UNIT45 offers also two special versions of its diesel-electric reefer container: a double-stack container and a dual/triple-compartment reefer.
The diesel-electric power unit used by UNIT45 incorporates a 250-litre diesel tank. This is more than sufficient for long-haul rail operations such as Rotterdam to Italy or Eastern Europe.
Considering the more strict food and pharma safety regulations, controlling the transport of perishable goods and pharmaceuticals has become more important than ever.
UNIT45 gives you the security that your load can be monitored at all times during transportation by offering you an optional track- and trace system on all our reefers. This way, you can check the fuel level and the location of your cargo at all times.
Our 45ft reefers can be bought, rented or leased for a certain period. When you send us your enquiry a suitable offer will be made for you. After your acceptance of the offer, the order process is started. Depending on your order, the 45ft reefers are made in your corporate identity colors and/or decals or directly available from stock in case you wish to rent/lease or buy our containers. After signature of the contract or payment in case of purchase, the reefers are released at the depot Rotterdam, depending on availability.
Our 45ft reefers feature aluminum flat floors and are equipped with 4 cargo bars and are all suitable for intermodal transport of conditioned cargo on rail, road and sea.

Specifications
External dimensions
Length: 13,716 mm
Width: 2,556 mm
Height: 2,896 mm
Internal dimensions
Length: 13,270 mm
Width: 2,438 mm
Height: 2,575 mm
Capacity
Cubic capacity: 83,3
Euro pallet: 33
ISO pallet: 26
Weight
Gross weight: 34,000 kgs
Tarra weight: 5,740 kgs
Max Payload: 28,260 kgs