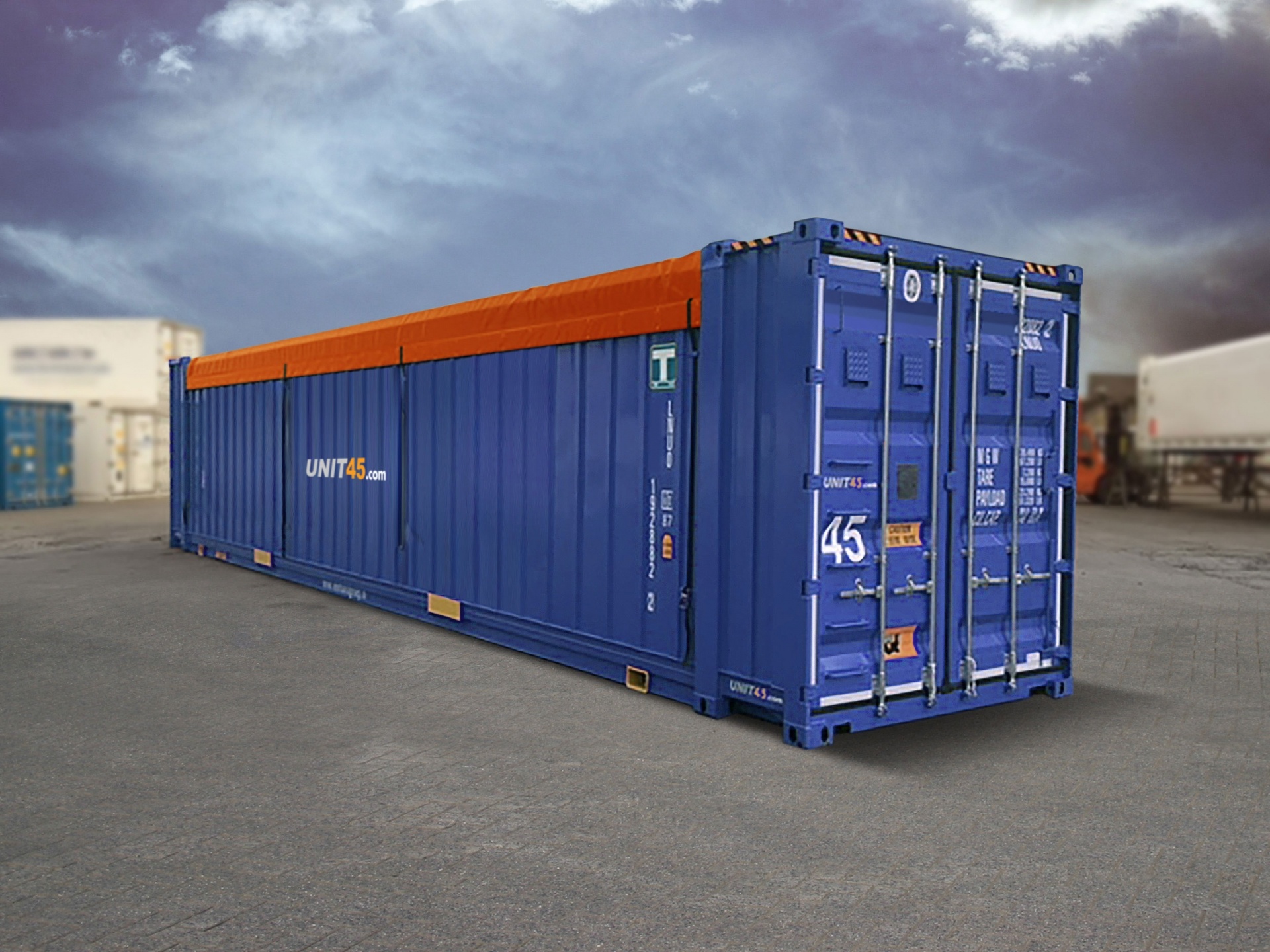 OPEN TOP CONTAINER
The open top container is suitable for transporting bulk goods such as scrap and turf. The open roof gives full access to the container so the goods can easily be loaded and unloaded. The roof opening is between the 40ft position of the container.
The advantages of the open top container:
- Suitable for open top (un)loading
- Reduce costs and carbon footprint
- Compatible with 40ft infrastructure
- Sustainable and environmentally friendly
UNIT45's pallet wide dry freight container offers the highest cubic capacity and payload of any standard 45ft container design. By using special high-strength steels and lightweight floor materials, an extremely low tare weight has been achieved.

The precise specification of our 45ft pallet-wide container can be modified to meet differing needs. The height and width can be varied to meet customers' need or restrictions on certain routes. And while our standard stacking height capabilities exceed most shortsea users' requirements, these can be uprated if necessary.

Efficiency on all levels of environment and infrastructure. Reduce costs and carbon footprint using 45ft dry containers. Its modified floor structure also makes the 45ft dry container suitable for chassis, as used in road haulage. All our 45ft dry containers are equipped with a gooseneck tunnel, therefore in combination with a gooseneck chassis the unit remains within the legally permitted maximum height of 4 meters on the road with a 9'6" high container.

All UNIT45 containers are road-legal throughout the EU and are also well suited for transport on cellular (shortsea) and non-cellular container ships, ro-ro vessels, inland waterway barges and rail wagons due to their chamfered corner post and euro corner castings.

UNIT45 design is constantly revised to take account of new technology, materials and environment as they become available and proven in service. Our 45ft dry containers are made with an environmentally friendly bamboo floor and all our 45ft containers are painted with waterborne paint.

Our 45ft open top containers are offered on a straight purchase base. When you send us your enquiry a suitable offer will be made for you. After your acceptance of the offer, the order process is started and the containers will be produced. On arrival of the containers in Rotterdam and after receipt of payment, the containers will be released for pick-up.
The 45ft special dry containers are available in various special versions and all are suitable for intermodal transport of cargo on rail, road and sea.