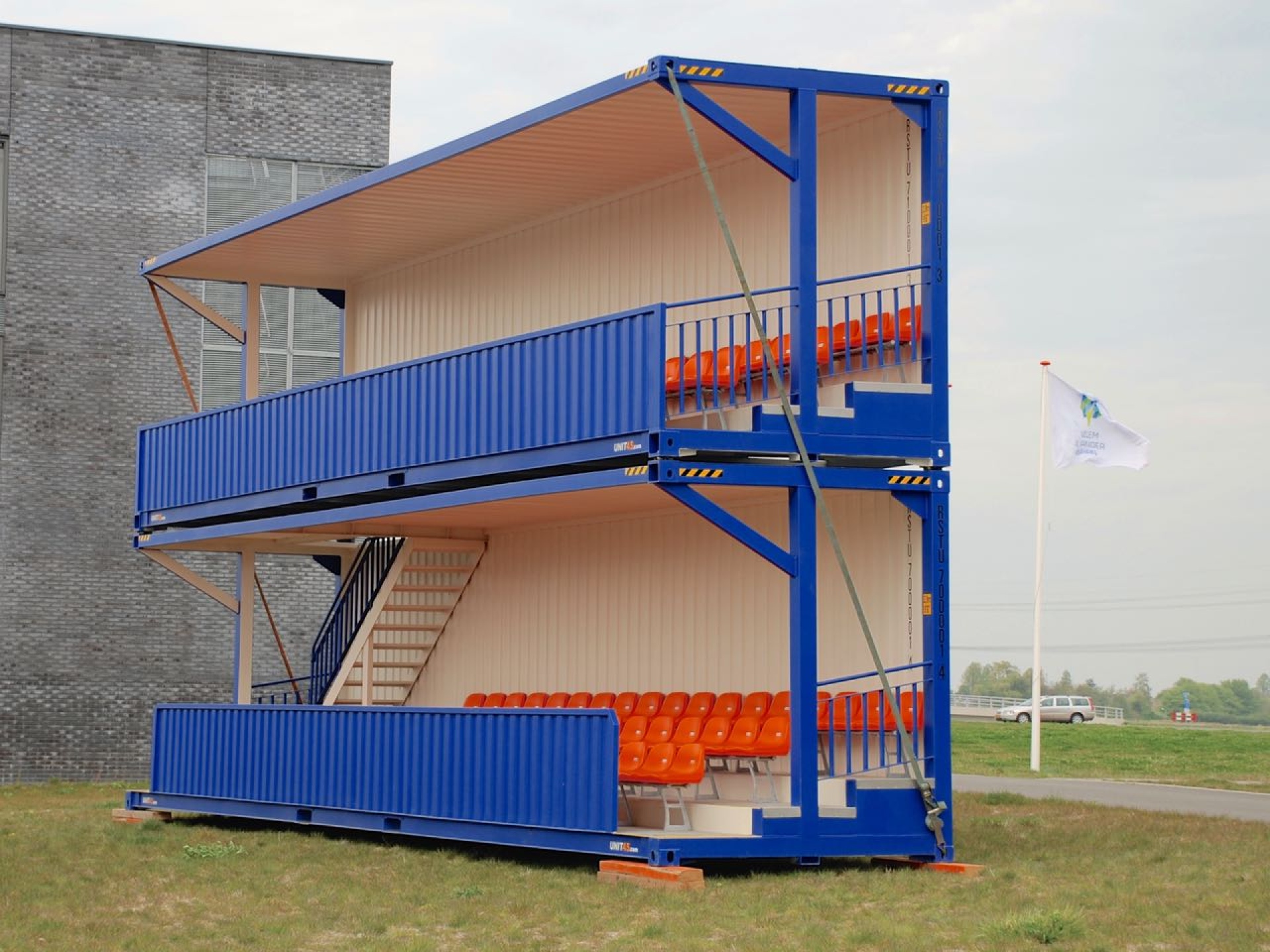 MODULAR GRANDSTAND
UNIT45 has developed a modular grandstand system compatible with the container infrastructure. The 40ft standard grandstand container has 66 covered seats and can be extended as well in length as in height. Height can be extended up to 3 levels. This gives unknown possibilities for creating a complete stadium!
Sport clubs want to offer the spectators comfortable and covered seats with a good view of the playing field. To realize this a high investment is required. UNIT45 rents these grandstands out to sport clubs. This can be for a period of one weekend up to six years. A long term rental contract reduces initial investment costs and offers a sport club immediately covered grandstand solution for their main field. The grandstands have solid construction and comply to the latest FIFA-application- and safety standards. Meanwhile UNIT45 has already placed the first grandstands at several soccer clubs.
UNIT45's modular grandstand system is also the best solution for realizing temporary (covered) seats. The system permits to place grandstands with a large capacity in a short time. The grandstands are stackable up to 3 levels and require a short set-up time. In no time a concert hall for 250 guests or a complete stadium for 5000 spectators can be realized.
The modular grandstand gives the advantage that no high investments are needed and the capacity can easily be extended, all this with an appealing rent rate per month. Furthermore with the solid construction a long lifetime can be achieved.

The advantages of our grandstands are:

No high investments
Capacity can be extended
Solid construction with long lifetime
Short set-up time
Our modular grandstand can be bought, rented or leased for a certain period. When you send us your enquiry a suitable offer will be made for you. After your acceptance of the offer, the order process is started. Depending on your order, the modular grandstands are especially made in your corporate identity colors and/or decals or directly available from stock in case you wish to rent/lease our grandstands. After signature of the contract or payment in case of purchase, the grandstands will be available in Rotterdam, depending on availability.
Specifications
External dimensions
Length: 12,192 mm
Width: 2,438 mm
Height: 2,896 mm
Internal dimensions
Length: 12,000 mm
Width: 2,400 mm
Height: 2,700 mm
Capacity
Cubic capacity: 0
Euro pallet: 0
ISO pallet: 0
Weight
Gross weight: 0 kgs
Tarra weight: 0 kgs
Max Payload: 0 kgs
The grandstands comply to the FIFA norm for soccer games. A 20ft version of the modular grandstand is also available.