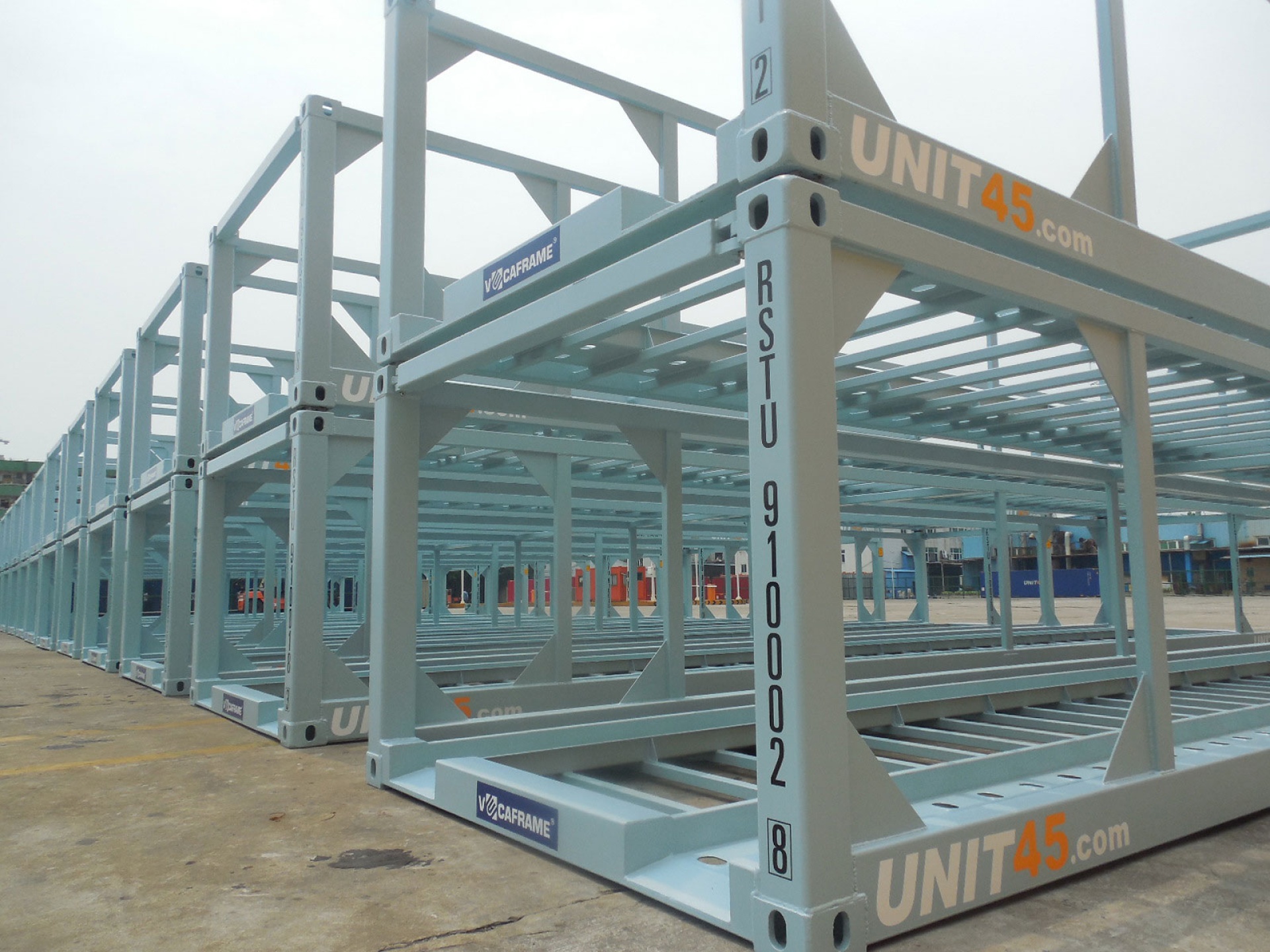 VUCAFRAME
The 40ft VucaFrame is an innovative open car frame for multi-modal transport of vehicles. The patented design makes it possible to transport two frames on top of each other with one single container chassis. By using special high-strength steels an extremely long life and high durability has been achieved. The frame is compatible with the 40ft container infrastructure and is an effective solution for the distribution of finished vehicles from factory to country level. A new product that results in reduction of logistic cost and a lower damage risk to the vehicles.
The VucaFrame can transport 2, 3 or 4 cars simultaneously in its transport frame. It makes efficient use of the existing worldwide container network. The open sides give the driver easy access into the frame. The frame is equipped with rotating top bars for car access to driving deck while the perforated driving lanes enable securing off cars with lashings. The frame is suitable for both low and high volume distribution. It reduces the logistic chain costs and handling of cars which leads to low risk of damage.
The Vucaframe not only enables transporters the opportunity to transport cars in the most efficient and safe way but also offers a great solution for storage. The VucaFrame can stacked up to 7 high giving instant capacity without the requirement of an expensive infrastructure. Easy increase or down size of storage capacity while the cars are well protected reducing damage and theft!
The advantages of the VucaFrame are:

Low risk of damage to cars
Gooseneck tunnel design
High density storage
Rotating top bars for easy access
The VucaFrame can be bought, rented or leased for a certain period. When you send us your enquiry a suitable offer will be made for you. After your acceptance of the offer, the order process is started. Depending on your order, the frames are especially made in your corporate identity colors and/or decals or directly available from stock in case you wish to rent/lease or buy our frames. After signature of the contract or payment in case of purchase the VucaFrame will be available in Rotterdam, depending on availability.
The 40ft VucaFrame is suitable for intermodal transport of cars on rail, road and sea. The VucaFrame can fit 2x per trailer and 2x per rail wagon. It is also well suited for transport on inland waterway barges, short sea shipping and deep sea shipping.
Specifications
External dimensions
Length: 12,192 mm
Width: 2,438 mm
Height: 1,540 mm
Internal dimensions
Length: 12,192 mm
Width: 2,130 mm
Height: 1,469 mm
Capacity
Cubic capacity: 0
Euro pallet: 0
ISO pallet: 0
Weight
Gross weight: 12,000 kgs
Tarra weight: 2,000 kgs
Max Payload: 10,000 kgs