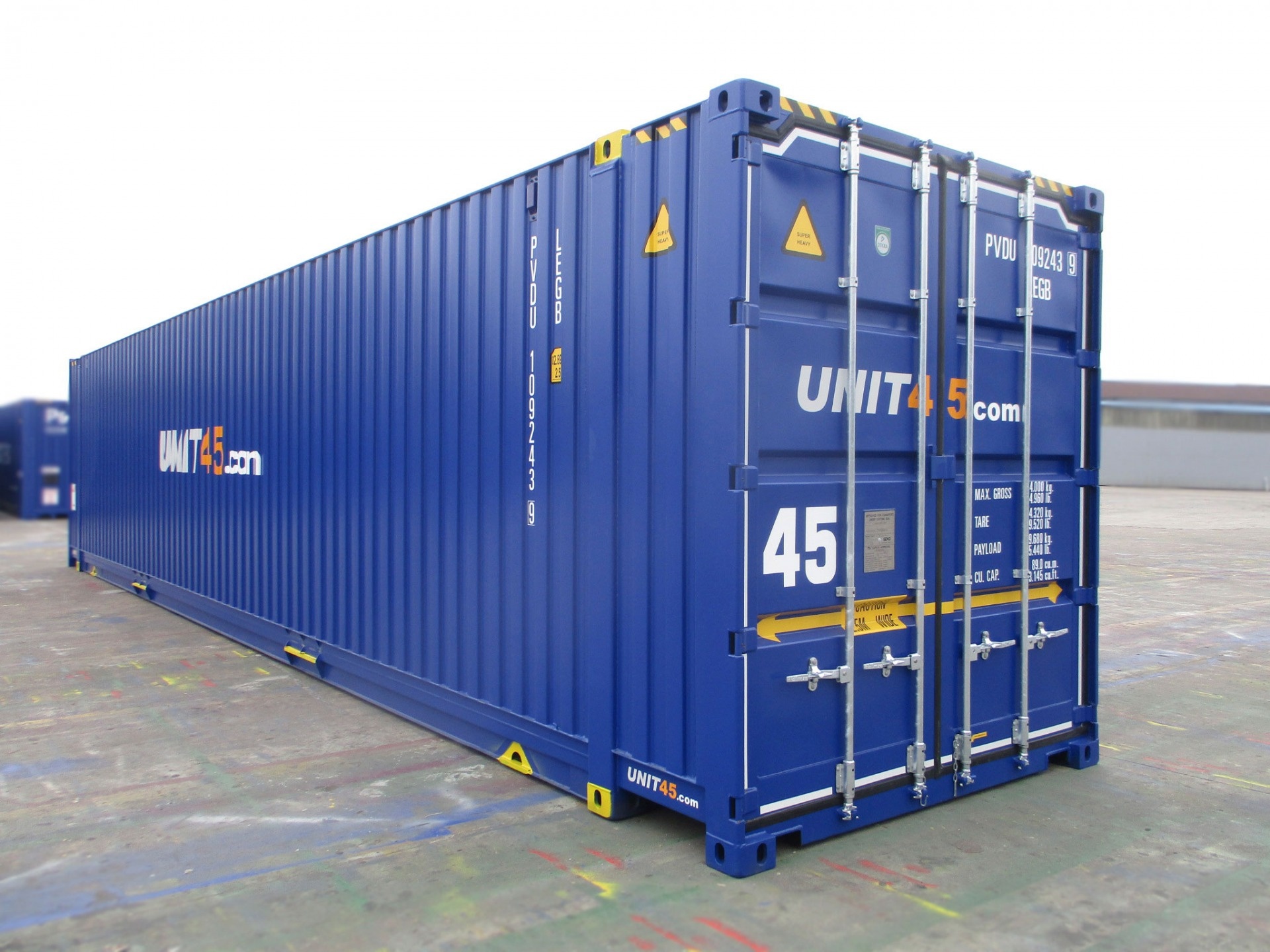 TYPE A birch floor
This type A dry container is equipped with a birch floor achieving an extremely low tare weight.
Our 9ft 6in high pallet wide dry freight container offers the highest cubic capacity and payload of any standard 45ft container design. By using special high-strength steels and lightweight floor materials, an extremely low tare weight has been achieved.
The advantages of the 45ft dry container type A:

Move more for less
Compatible with 40ft infrastructure
Extremely low tare weight
The 45ft container is the intermodal transport system of the future. Our 45ft dry containers are all compatible with 40ft infrastructure and the design conforms to EU Legislation EN 253. Transporting more with fewer movements and all handled with the same infrastructure as used for 40ft containers.

UNIT45 design is constantly revised to take account of new technology, materials and environment as they become available and proven in service. All our 45ft containers are painted with waterborne paint.

The precise specification of our 45ft pallet-wide container can be modified to meet differing needs. The height and width can be varied to meet customers' need or restrictions on certain routes. And while our standard stacking height capabilities exceed most shortsea users' requirements, these can be uprated if necessary.
All UNIT45 containers are road-legal throughout the EU and are also well suited for transport on cellular (shortsea) and non-cellular container ships, ro-ro vessels, inland waterway barges and rail wagons due to their chamfered corner post and euro corner castings.

Our 45ft containers can be bought, rented or leased for a certain period. When you send us your enquiry a suitable offer will be made for you. After your acceptance of the offer, the order process is started. Depending on your order, the 45ft containers are especially made in your corporate identity colors and/or decals or directly available from stock in case you wish to rent/lease or buy our containers. Over the last years the rental fleet of UNIT45 containers has grown very fast up to 28000 units. After signature of the contract or payment in case of purchase, the containers are released at the depot Rotterdam, Hamburg or Antwerp of your choice, depending on availability.

The dry unit type A is suitable for intermodal transport of cargo on rail, road and sea.
Specifications
External dimensions
Length: 13,716 mm
Width: 2,500 mm
Height: 2,896 mm
Internal dimensions
Length: 13,556 mm
Width: 2,438 mm
Height: 2,695 mm
Capacity
Cubic capacity: 89
Euro pallet: 33
ISO pallet: 26
Weight
Gross weight: 34,000 kgs
Tarra weight: 4,260 kgs
Max Payload: 29,740 kgs
these technical specs only apply to the standard dry container