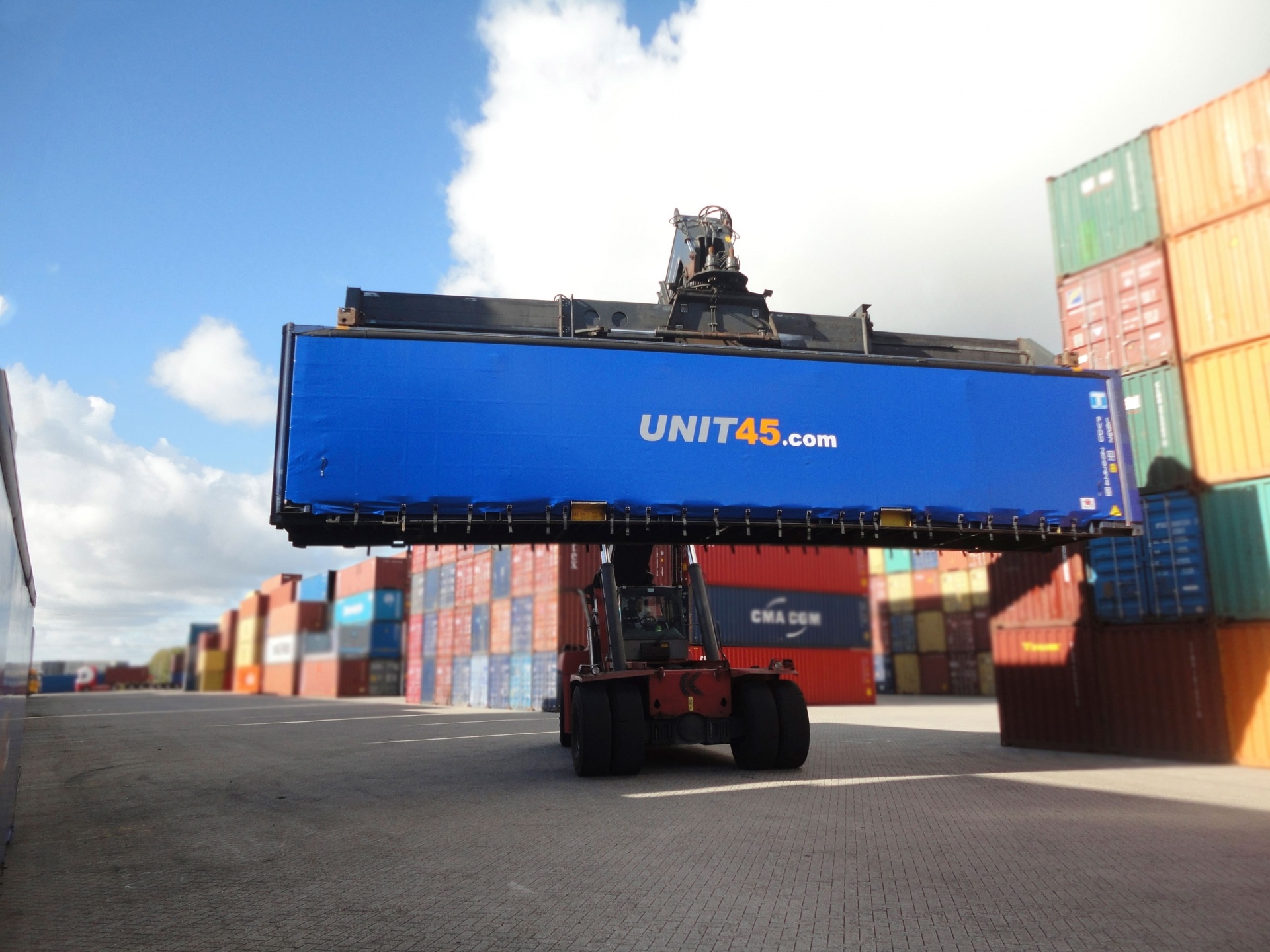 TYPE A+ lightweight bamboo floor
This type A+ is equipped with a lightweight bamboo floor, including the aluminum side boards, stanchions and bamboo planks. The unit is XL approved for high-speed train (EN12641-2). The unit can be (un)loaded from three sides.
The advantages of our curtainsider type A+ are:

XL-approved
3 sides accessible for (un)loading
Theft-proof curtains with heavy duty webbing
Compatible with 40ft infrastructure
This curtainsided unit able to load 33 euro pallets can be loaded from three sides, offers full side access and provides flexibility when used for carrying part loads, each and every pallet is immediately accessible. The unit is also a perfect solution for companies that are only able to load and unload from the side.
The 45ft container is the intermodal transport system of the future. All our containers are compatible with 40ft infrastructure and the design conforms to EU Legislation EN 253. Transporting more with fewer movements and all handled with the same infrastructure as used for 40ft containers.
Like the standard dry freight container, the curtainsided containers are built using the same high-strength steels and lightweight flooring materials so as to minimize tare weight. The 45ft curtainsided container is equipped with theft-proof curtains with heavy duty webbing. Curtainsided containers are stackable up to 5 high when empty and up to 3 high when fully loaded and can be top-lifted like the standard 45ft container.

UNIT45 design is constantly revised to take account of new technology, materials and environment as they become available and proven in service. All our 45ft containers are painted with waterborne paint.

Our 45ft curtainsiders can be bought, rented or leased for a certain period. When you send us your enquiry, a suitable offer will be made for you. After your acceptance of the offer, the order process is started. Depending on your order, the 45ft curtainsiders are especially made in your corporate identity colors and/or decals or directly available from stock in case you wish to rent/lease or buy our containers. Over the last years the rental fleet of UNIT45 containers has grown very fast up to 28000 units. After signature of the contract or payment in case of purchase, the containers are released in Rotterdam, depending on availability.
All our 45ft curtainsiders are suitable for intermodal transport of cargo on rail, road and sea.
Specifications
External dimensions
Length: 13,716 mm
Width: 2,550 mm
Height: 2,896 mm
Internal dimensions
Length: 13,551 mm
Width: 2,450 mm
Height: 2,468 mm
Capacity
Cubic capacity: 81
Euro pallet: 33
ISO pallet: 26
Weight
Gross weight: 34,000 kgs
Tarra weight: 5,915 kgs
Max Payload: 28,085 kgs