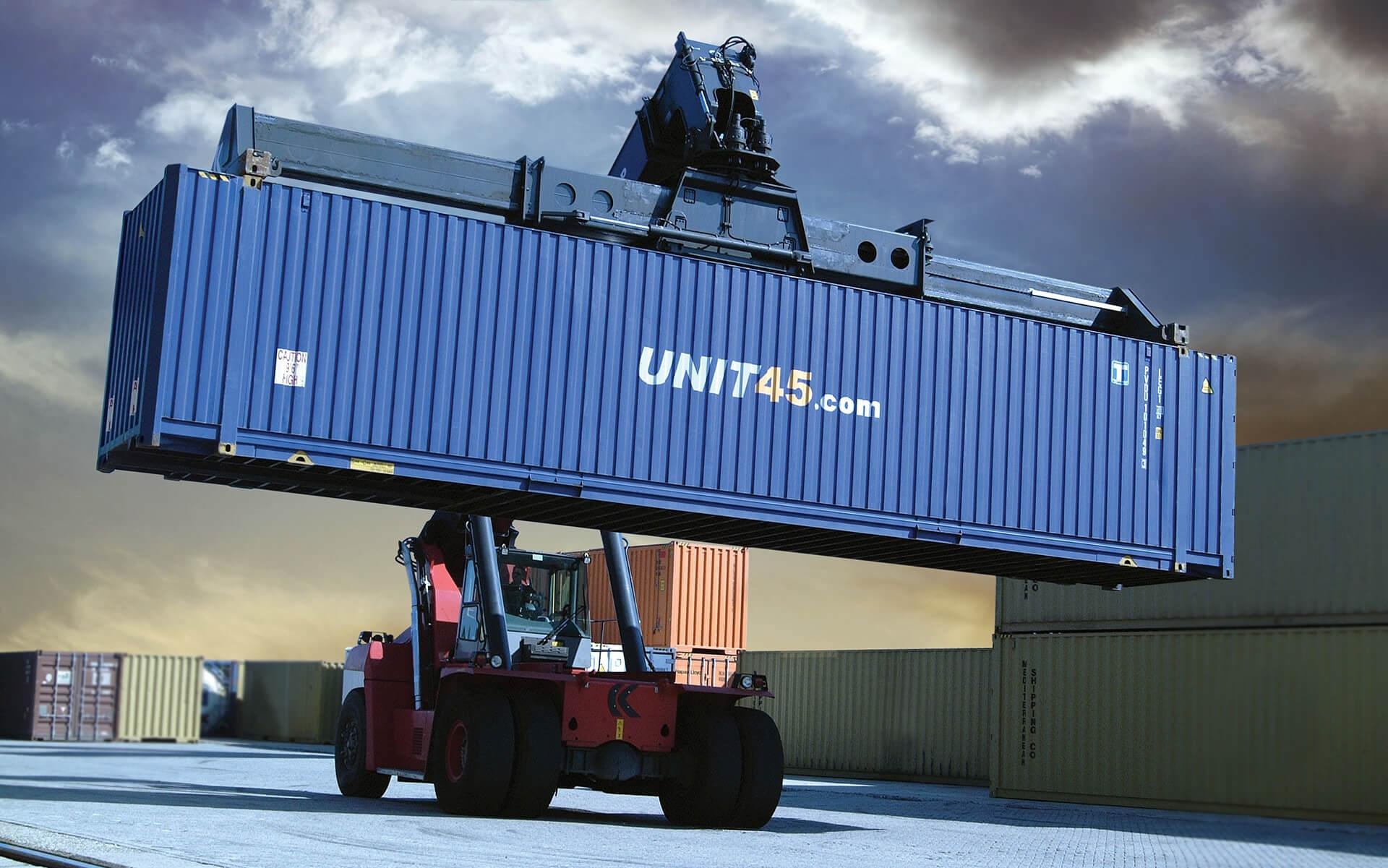 The true European Intermodal Unit
11-04-2006
11-04-2006
45ft palletwide containers
Reports appearing recently in the press have suggested that "as of 1 January, 2007, it will be illegal to transport 45ft palletwide containers by road in the European Union (EU)". In the opinion of UNIT45 and, we are sure, in the opinion of all leading European intermodal and shortsea shipping companies, this is a highly misleading statement.
We have sought to identify the source of these reports and so far can only identify a document issued by the Maritime Industries Forum (MIF) in Brussels. Amongst other things, this stated that "the movement of ISO 45ft containers will not be banned in Europe, it is just that the interpretation of a road dimension Directive will "ban" their carriage on public road."
What this statement failed to note was that virtually all 45ft palletwide containers in use in Europe do conform to current and future road transport regulations including Directive 96/53, the Directive referred to above, because they are fitted with Euro corner castings and chamfered corner posts. Owners of the few older containers that cannot meet 96/53 already plan to phase out (or convert?) these units by the end of December 2006. So far, we have been unable to establish why the MIF statement made no reference to the Euro corner casting and the fact that this solution has been adopted by virtually every European shortsea shipping company and intermodal operator.
This statement is potentially damaging to the business interests of not only my own company but of all shortsea and intermodal operators currently trying to persuade shippers to adopt shortsea and intermodal transportation concepts. If Europe is to reduce the volumes of cargo moving by road, it is essential that more shippers incorporate intermodal and shortsea shipping alternatives within their overall supply chain systems.
As designers and suppliers of 45ft palletwide containers, we are at a loss to understand why certain parties in Brussels are lobbying against this equipment. The industry itself has embraced the concept wholeheartedly. Perhaps the only concern is that the only designs that meet 96/53 need to incorporate the Euro corner casting, which is patented and so requires payment of a licensing fee. In UNIT45's opinion, this is a minor point that could be eliminated if there was a concerted will.
In 1995, the European shortsea industry discovered that the EU was proposing introducing Directive 96/53 that would effectively outlaw 45ft containers. Concerted lobbying by, amongst others, Bell Lines, Geest North Sea Line and Maersk, failed to get the necessary modifications that would have enabled 45ft containers to remain within the law. All that was achieved was that containers in existence before the directive came into effect would be allowed to operate on Europe's roads for ten years. It is this dispensation that expires at the end of 2006.
Such is the innovative nature of the transport industry that a way around the problem was soon found. This was the Euro corner casting. Patents were applied for and obtained. Subsequently, virtually all 45ft palletwide containers ordered for operation in Europe were fitted with these features.
Since 1996, there has been little or no policing of 96/53 as it applies to 45ft containers since it requires regulatory authorities to stop vehicles and establish the date of build of the container. If built before 96/53 became effective, it is legal. If built later, then it is illegal. One can hardly blame the authorities for ducking this issue.
With effect from 1 January 2007, only 45ft containers fitted with Euro corner castings will be legal and since these are quite distinctive, it will be easier to determine whether the container is legal, even if it is on the road moving at 80km/hr. For this reason, UNIT45 believes prosecutions will begin in 2007.
Along with most of the European shortsea and intermodal community, UNIT45 is at a loss to understand why the EU seems intent on developing a standard European Intermodal Unit. We all believe it exists already and is the 45ft palletwide container. It can withstand the rigours of being carried on ships and be stacked. It can be carried on trains, barges and if fitted with Euro corner castings, it can be moved by road. No-one seems willing to tell us what its supposed shortcomings are. As designers, we are sure we could address these if asked.
We are sure though that absolute standardisation is not the answer.
We accept that our standard 45ft palletwide containers cannot be stacked nine-high, as is the case with deepsea boxes. However, they could be designed to meet such a requirement if the market demanded it. It's simply that the market does not want such a box: it would require more strength, ie more steel, which would increase the cost and the weight, so reducing payload. Nowhere in the European 'domestic' market are boxes ever stacked nine-high. It only happens in the holds of large deepsea container vessels.
We offer a variety of heights. While 9ft 6in is the standard, as it is fast becoming in the deepsea trades, we can reduce this for those operators who require it, perhaps because they are using rail routes with restricted loading gauges.
The palletwide width – 2.5m for dry boxes and 2.6m for reefers – does create problems when mixing shortsea containers with 8ft (2.4m) wide deepsea boxes but any European Intermodal Unit able to load pallets two wide and carry 33 pallets in total needs that extra width. That's why the palletwide container was created in the first place.
We at UNIT45 urge those in the industry to meet with those who are creating or seeking to influence legislation so that they can find agreed solutions. The current uncertainty could easily become a deterrent preventing major corporations from incorporating maritime and intermodal solutions within their supply chain systems. No-one wants this.
Back to overview