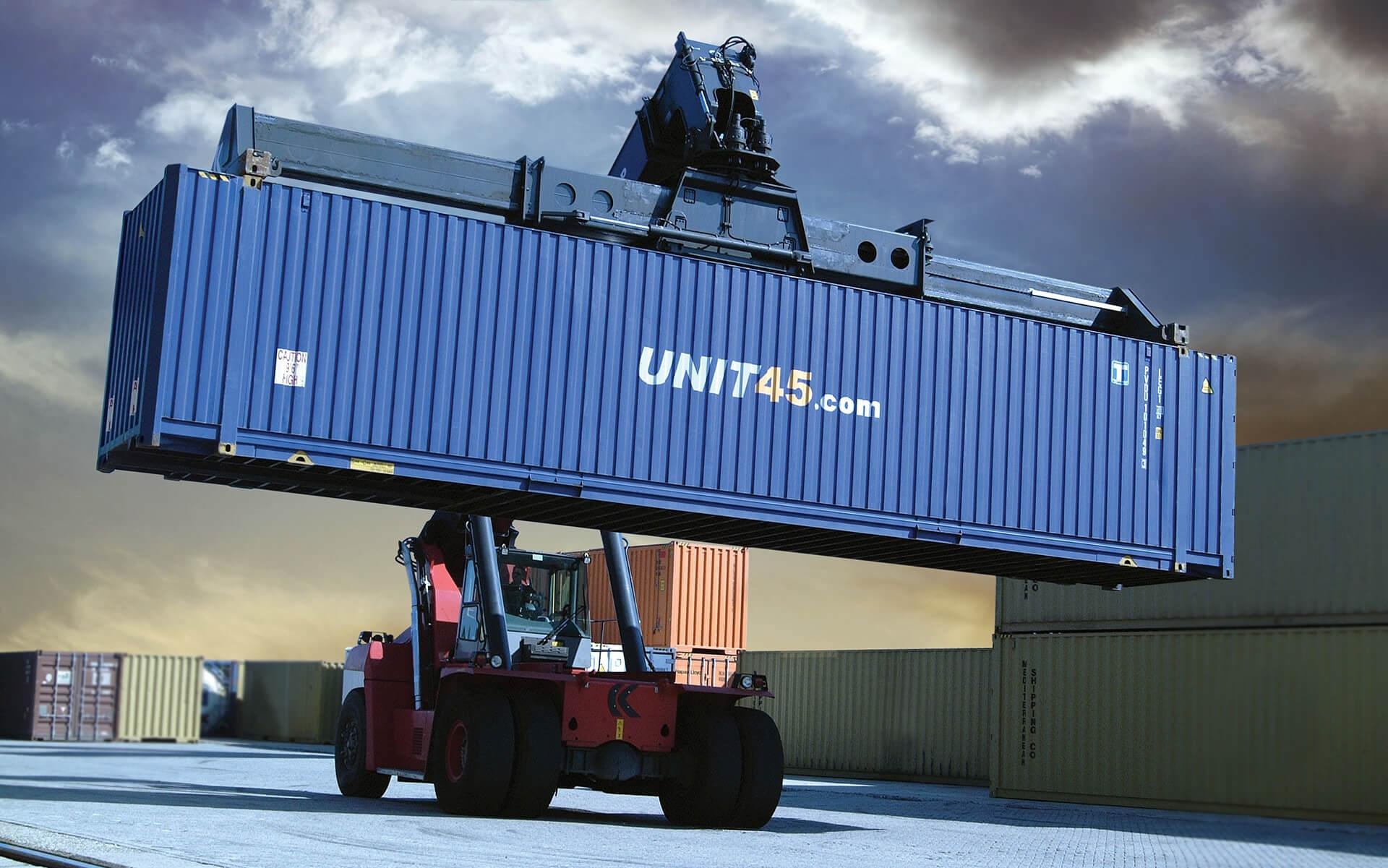 Deepsea goodnight
31-01-2006
31-01-2006
The countdown begins in Europe for the end of the 45ft deepsea container
When first introduced, the 45ft deepsea container was intended for use in the transpacific trades. However, such containers are now widely used in the trades linking Europe with Asia and North America. What is not widely appreciated is that when they are transported on roads within the EU, most of these containers are being moved illegally. And with effect from 1 January 2007, it will be against the law to move 45ft containers fitted with conventional corner castings by road within the EU.
It was in July 1996 that the EU Directive 96/53/EC came into force, setting out the maximum dimensions and weights permissible for road vehicles operating in national and international traffic. It was realised then that 45ft containers would present a problem and the EU agreed that containers built before July 1996 would be allowed to operate for a period of approximately ten years. It is this derogation that expires at the end of 2006.
Newer 45ft containers with conventional corner castings have been illegal on Europe's roads since 1996 but there has been little enforcement of this aspect of 96/53 since it requires the enforcement agencies to stop vehicles and carefully check the date of manufacture of the suspect containers. However, from 1 January 2007, the situation changes dramatically since it will become very easy to spot illegal containers, even those on the move in heavy traffic. Quite simply, any 45ft container that doesn't feature the visually distinctive Euro corner castings and chamfered corner posts will be illegal and the road haulage operator will be breaking the law.
January 2007 is unlikely to present problems for shortsea/intermodal operators since they reacted swiftly to the impending legislation and began ordering 45ft containers specially designed to conform with EU directive 96/53. The key to being able to do this was the development of the Euro corner casting, which when used in conjunction with chamfered corner posts, solves the problem. This patented solution has been adopted almost 100% by Europe's shortsea/intermodal operators and any old 45s are being phased out before the deadline.
Deepsea lines have shown less interest in building 45ft containers that would be road legal in Europe. Partly, this may be attributable to a lack of recognition of the problem and partly because only a small percentage of the 45ft deepsea container fleet is employed on the trades to Europe. Cost is also a factor: by and large, deepsea lines resent the extra expense of adopting a patented solution across their global fleet when only small numbers of these containers are likely to come to Europe.
With the cut-off date now looming, deepsea carriers are beginning to show greater interest in 45ft containers with Euro castings and at least one major name is believed to have committed to the construction of such containers.
UNIT45 is now the leading supplier of 45ft pallet-wide (pw) containers to the shortsea/ intermodal shipping industry and as such, has gained a great deal of knowledge and experience regarding the legal requirements and construction techniques relating to such equipment.
The company points out that in the intra-European trades, the 45ft pw has become an indispensable tool. Here, the container is in direct competition with 13.6m road trailers and the key parameters are pallet capacity and cubic capacity. The 45ft pw can match the trailer for pallet capacity and its cubic capacity is comparable to that of standard trailers. Only with very light cargoes are container operators at a disadvantage, their road-based counterparts turning to small-wheeled hi-cube trailers for maximum capacity.
In the deepsea trades, carriers are locked in to using 8ft wide containers due to the width of underdeck cells and the positioning of on-deck lashing points. With ships typically having a lifetime of 20-25 years, it is hard for these companies to break free of these constraints but such are the undeniable economic benefits of using 45ft pw boxes, UNIT45 believes it can be only a matter of time. With the cost of road haulage increasing month on month, it simply does not make sense to be using sub-optimal equipment. After all, the cost of moving a 45ft pw container or a 40ft or 45ft deepsea 8ft wide container from Rotterdam to southern Germany is the same.
UNIT45 also identifies another reason why conventional 45ft containers are not an option for companies who are doing all or a significant part of their business in Europe. While transport operators may be prepared to gamble on 96/53 not being strictly enforced, banks and leasing companies who provide finance for equipment purchases are unlikely to accept such a risk. There is no security in an asset that cannot be used in a legal way.
In 2006, the 50th anniversary of containerisation is being celebrated around the world. UNIT45 believes this anniversary should not only be a celebration of the past but should also be a reminder that things cannot stay the same for ever. Although the standard 40ft and 20ft container sizes have served the global industry well for over 35 years, UNIT45 believes that it is time the deepsea lines followed the lead of European shortsea carriers and adopted 45ft pw containers that offer higher cubic capacity and are better suited to metric packaging dimensions.
It goes further too, suggesting that 20ft containers should be replaced by 30ft units, pointing out that this would enable ships to be built with 90ft hatches able to accommodate two 45s or three 30s – as is already happening in the European shortsea trades. Given that maximum gross vehicle weights have increased substantially over the past few decades, does it really make sense to stick with the 20?
There are plenty of people in the industry who will say that because the entire world fleet is built to carry 20ft and 40ft containers that are 8ft wide, it is simply inconceivable that the standards could be changed so dramatically. But wasn't that what was said 50 years ago and didn't it take just one company to prove them wrong? UNIT45 believes that if one of today's deepsea carriers were to offer 45ft pw boxes to shippers, it would have an immediate and major advantage in the marketplace that its competitors simply could not ignore.
UNIT45 has developed a range of 45ft pw containers to meet the varying needs of its European customers. These include reefer and curtain-sided containers.
Its standard dry box container offers a cubic capacity of 89.2m3 and a maximum gross weight of 34000kg and a maximum payload of 29720kg. Its low tare weight of 4280kg is achieved through the use of special high-strength steel for the corner posts and floor structure. It is able to carry 33 pallets and can be stacked seven-high on its 45ft corner posts, three-high when mixed with 40ft units.
UNIT45 is able to meet clients' special requirements and is also able to supply 45ft long, 8ft wide containers for those customers who, like the deepsea carriers, are restricted in their ability to load 2.5m wide pw containers on their ships.
UNIT45's reefer containers are also able to load 33 pallets and offer an internal capacity of 82. 7m3. All-electric and diesel-electric versions are available.
Again because of competition from road hauliers, UNIT45 has developed a curtain-sided 45ft container that can load 33 pallets and offers 84m3. These units are in demand from shortsea/intermodal carriers who have customers that require side access and who might otherwise use curtain-sided trailers to transport their goods.
All three types of equipment are available from UNIT45 for outright purchase, long and medium-term lease or short-term rental.
Directive 96/53 states that the maximum length of the truck-trailer combination must not exceed 16.5m and that the distance from the king-pin to the rear of the trailer must not exceed 12m. Furthermore, the swing radius from the king-pin must not exceed 2.04m.
When carrying a standard 45ft container, either the container will overhang the rear of the trailer by some 8cm or the swing clearance will be less than 2.04m. Only by using Euro castings and the chamfered corner posts can a 45ft container meet both the length and swing radius restrictions.
Because the directive also lays down a maximum height of 4m for the trailer, gooseneck trailers are required for hi-cube (9ft 6in) containers and so such containers require gooseneck recesses. In countries such as the UK, gooseneck trailers are not required as the maximum permitted height is in excess of 4m.
Back to overview